"War is a series of catastrophes that results in a victory."
Georges Benjamin Clemenceau
I like to think that my blog posts are a series of catastrophic paragraphs that results ultimately in victory but I'll leave that to the reader to decide.
Anyhow, moving on.
I'm fascinated by the Second World War, well OK then, by war in general perhaps. I'm currently engrossed in Donald L Miller's Masters of the Air. Miller tells the story of the Eighth Army Air Force's experiences against the Luftwaffe - and incompetence on their own side.  It's sad, funny and graphic in places; detailing the effects that a 20mm explosive shell has on human tissue on many occasions - and it's not good.
It sounds odd, geeky perhaps, to admit to this fascination, but I'm of a generation where war and it's enactment and indeed wiling participation was seen as the pinnacle of masculinity. Little boys like myself, at the time, (working class cannon fodder in training to fight the Red Army) played army and consumed any stories of war that they could find and indeed as a boy I revelled in it - wished and longed to be a part of it.
This ended though whilst I was a student, I went to photograph a live fire exercise being conducted by the now defunct Staffordshire Regiment who were training TA recruits in the Brecon Beacons. On an excercise to take a fixed position a running soldier slipped and instinctively gripped onto her rifle causing her to squeeze the trigger - bullets hit the ground six or seven feet to the left of me as people dived out of the way - as if they were in a John Woo film.
I had witnessed this though through a wide angle lens and the spatters of mud had seemed much further away - so was quite calm about it.  But all in all machine gun fire and explosions seemed boring without music. Sleeping on a concrete floor - in the coldest recorded February at the time - in a mock town built to practice urban warfare wasn't all that either.  But the final denouement of talking to survivors of the first Gulf War about the death of their colleagues - by a friendly fire incident after two A10 American aircraft had attacked their Warriors - ended any desire for war.
To be fair though asthma had ended my capacity for war long before this. Asthma is a terrible thing to have as a boy - but perhaps this saved me as friends went on to enact their masculinity through violent crime, armed robbery and sadly murder.  But that's another story.
I remember on one occasion though going to get my mother's medication from the chemist as a child  - just after buying my dad's Parkdrive (ahhh the good old days when my dad would let his asthmatic son light his unfiltered Parkdrive for him) and listening to an old man talking about his wartime experiences at El Alamien. I remember being enthralled, moved and being surprised by his huge size and his hobnailed boots. 
As a child the Second World War still dominated popular culture. I read the comics (wow they still make that crap), watched the films and played with guns and built the model planes - which I then set alight and threw in the air watching as it crashed and burned before I hit it with my dad's hammer. No, I don't need therapy. As young boys we even played army with stones. Throwing them at each other as we advanced to take or defend positions.
Stones for fuck's sake.
But then we'd go home and watch 15 rounds of boxing on television with our dads and laugh and cheer as two men beat the crap out of each other. But they were different times then, we lived with a different mentality, besides at any moment the Russians could invade - or nuke us - and we really believed that.
Deep down though, deep inside, there dwelled the thought of how would I have responded if called to arms?  Would I have been a hero or a coward?
But I digress.
Any way, morbidly I look at the portraits of soldiers now and wonder what happened next for them? (I wrote about it once here) and that's what I think when I look at the installation Decisive Portraits (1998) by Joachim Schmid which uses the photographs of George Garland All of these African American troops would soon be going off to France and off to face their destiny as their portraits were all taken by Garland in May 1944 a few weeks before D-Day.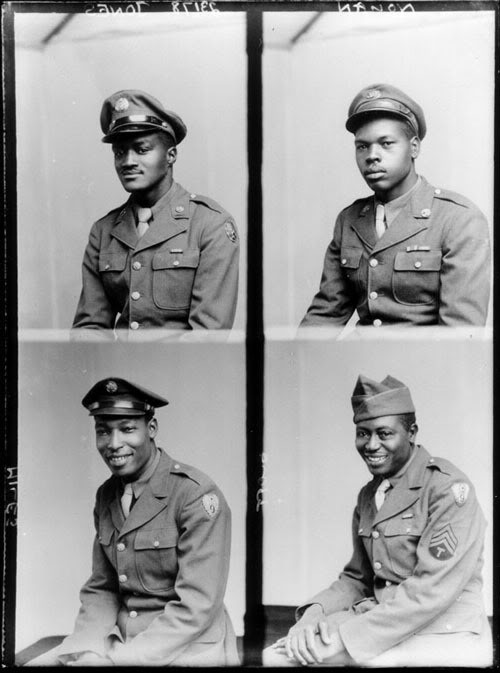 The following text is copyright of Joachim Schmid and can be found here:

They came from the United States of America.
Evans, Garrett, Private in 9th Army Air Corps. Coley, Chapman and a Master Sgt., 23rd Apr. 1944
They gathered in the south of England.
Pattiford – Goodlet, Johnson – Hovington, 9th Army Air Corps, April 1944
They prepared for the day of decision.
Bradley – Bailey – Booth – Van Reed, 9th U.S. Army Air Corps, April 1944
They made no decisions themselves.
Basden. Mils. Liggans, U.S.A., May 1944
They imagined their lives after the battle.
Dulin. Slade. Johnson. Roebuck, U.S. Army, May 1944
They had their portraits taken before leaving.
Andrews, Pte. Powell, Sgt. Montgomery, Sgt. Montague, U.S. Air Force, May 1944
They left on the morning of June 6th.
Jones U.S.A., Nolan U.S.A., Scott U.S.A., Miles U.S.A., May 1944
Decisive Portraits is a cluster of eight b/w photographs and a text panel (38 x 28 cm each, edition of 2), derived from portraits taken by George Garland in April and May 1944 in Petworth, Sussex (see Very Miscellaneous).
Based on these portraits, Retratos decisivos was a temporary public art project, commissioned by and realized in collaboration with PhotoEspaña in Madrid in 2004.
Perhaps this video will put the Second World War into context.
Cookies must be accepted in order to display this content. Accept
I've had many ideas over the years for projects that explored war and violence or perhaps the inherent need in some to express themselves through acts of violence but I'm yet to get there. Until then I'll leave you with the last of Garland's photos.
The portraits (below) are of Bishop, Dailey, Bradley and Ferguson, U.S. Army, 1944.
I wonder what happened to them? What they would see, live through, endure?
I wonder what the coming months of war would have in store for them?  I hope they all made it, I hope they all got home in one piece, intact, whole, even if it would be to an America where the democracy which they fought to give Europe was absent for them...I still hope they all got home.
The last name on the list though is quite prophetic of what America would have waiting at home for them and their children...
...Ferguson.
Anyway here's to Victory.
I told you this post would end with victory.